Military Battery Terminal and Cover Sets
Options:
Quantity:
Notes:
Manufacturer #:
MBT&Bx1, MBT&Bx2, MBT&Bx10, MBT&Bx4

Add to Cart

Military Battery Terminals and Boots Sets
Setting up a single, dual or multiple battery system and want the best and most versatile components? Well here are some package deals to save a few bucks and get all the parts you need at one time.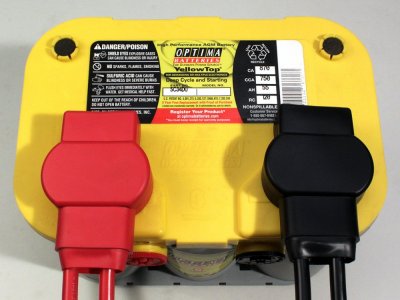 Military battery terminals
are great for adding accessories like a winch or other high drain equipment. Standard side terminals just won't cut it. These mil-spec terminals also work great when used with dual (post and side) terminal batteries. You are able to use the side terminals for starting and powering normal circuits and the top posts for other added accessories. They are also Indispensable for dual or multiple battery configurations. Or, if you just need to replace a battery cable, use these terminals with a less expensive cable with rings on both ends. Real problem solvers!
For orders outside the US please contact us for shipping costs!
Military Battery Terminals

Low profile design - only 3/4" tall

Die cast zinc alloy

3.6 times more conductive than lead

Corrosion resistant plating

Lead free (RoHS compliant)

Mil-Spec

Each set includes 1 positive and 1 negative terminal

Large through bolt Is 3/8", small clamping bolt Is 5/16"

Also great for sound systems, lighting, hydraulics or any high amp demand equipment



Military Battery Terminal Boots
Oval hole for multiple cables

Perfect addition to military battery terminals

High temperature PVC construction (105C/221F)

Protects against accidental shorts

Provide safety and good looks at the same time

Helps prevent corrosion

Each set includes 1 red & 1 black boot


Complies with ABYC E-9, USCG 33 subpart I, and ISO 1013